The recently adopted Act Supplementing Financial Supervision Legislation (Finanzaufsichtsrechtergänzungsgesetz - only available in German) has conferred additional powers on BaFin to allow it to better counter risks to financial stability resulting from real estate financing. The new section 48u of the Banking Act (Kreditwesengesetz – KWG - only available in German) enables BaFin to govern new business in a more targeted fashion by capping, if necessary, mortgage financing for property purchases. It can also impose requirements governing the repayment of loans and hence stipulate the minimum amount of a loan that has to be repaid within a specified period (amortisation requirement).
On this page:
Similar rules were also incorporated into the Insurance Supervision Act (Versicherungsaufsichtsgesetz – VAG - only available in German) and the Investment Code (Kapitalanlagegesetzbuch – KAGB - only available in German) to ensure the same cross-sector treatment of these transactions and avoid distortions of competition. However, because banks play the majority role in extending loans for the housing market, this article focuses exclusively on the banking sector. The new powers are a first in German banking supervision because they relate not to the own funds of the banks, but directly to the loan arrangements between banks and their customers.
Enhancing BaFin's capacity to act, protecting taxpayers
The Act Supplementing Financial Supervision Legislation is another key element for safeguarding financial stability in Germany. The financial crisis demonstrated very clearly to market participants and supervisory authorities that purely micro-prudential (institution-specific) supervision is not enough to ensure the stability of the financial system as a whole. Rather, it must be appropriately flanked by macro-prudential intervention options that, if necessary, strengthen the resilience of the system as a whole.
In the summer of 2015, the Financial Stability Committee (Ausschuss für Finanzstabilität – AFS), which comprises representatives of the Federal Ministry of Finance, the Deutsche Bundesbank, the Financial Market Stabilisation Agency and BaFin, therefore recommended that the existing range of macro-prudential instruments should be supplemented so that all core stability risks resulting from the housing market could be addressed appropriately (see BaFinJournal July 2015 - only available in German).
The AFS's initiative is expressly aimed at creating new preventive instruments. The focus is thus not on any acute need for action, but rather on creating capacity to act in response to emerging worst-case scenarios. The main goal of the AFS and its member institutions is to prevent taxpayers from being burdened with the exorbitant costs of financial crises resulting from undesirable developments in the German housing market.
Direct impact on loan agreements
Inflated prices on the housing market can pose a problem to financial stability, in other words they can trigger the oft-cited real estate bubble, if they are accompanied by excessive lending practices and looser lending standards on the part of the banks. On the one hand, lending policies that are too loose and too extensive artificially increase demand for residential property, further driving up prices and market imbalances. On the other, the vulnerability of the banking system to abrupt downturns in the housing market also rises. Institutions' lending policies are therefore especially important for safeguarding financial stability.
To protect the financial system against a crisis, it therefore makes sense to allow the supervisor to directly influence how banks make residential mortgage loans and how much they lend. The existing instruments available for the macro-prudential supervision of the residential property market are not sufficient for this purpose. For example, BaFin can require the banks to maintain more own funds for residential mortgages than for other types of businesses by stipulating higher risk weights. Ultimately, this makes residential mortgage loans more expensive. Empirical research and supervisory practice indicate that this change in relative prices can be used to achieve effects that are minor.
However, an appropriate response to financial crises requires stimuli that act much more clearly and much faster. Consequently, the AFS therefore proposed establishing two instruments that directly affect contract terms and conditions in the new business: the loan-to-value (LTV) ratio and amortisation requirements.
Mortgage caps
The LTV ratio is particularly important. BaFin can use this instrument to limit the amount of mortgage loans by making them dependent on the value of the property used to secure the loans. For example, if it specifies a maximum LTV of 85 per cent, this means that at least 15 per cent of the market value of the property must be financed by equity.
The aim of capping the proportion of mortgage finance for property purchases is to ensure that institutions can reduce any losses if their borrowing customers default by liquidating the collateral.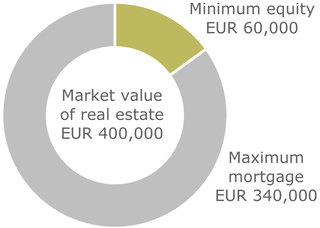 Example: Loan-to-value ratio of 85 per cent BaFin
Amortisation requirements
The second new instrument is amortisation requirements. In the future, BaFin will be able to use this instrument, if necessary, to specify a proportion of the total amount of the loan that must be repaid by the borrowers within a specified period. For borrowers, the amortisation requirement means that they cannot ease their debt service obligation to repay principal and interest by agreeing an excessively long loan maturity.
From the financial stability perspective, this reduces the probability of default of the loans. In addition, repaying the loan more quickly also means a more rapid reduction in the lender's outstanding loan exposure. Both aspects significantly help reduce systemic risk.
Mitigating the negative consequences of intervention
The new instruments directly affect residential mortgage lending and are thus highly effective means for safeguarding financial stability. However, their powerful impact also automatically leads to conflicts with other policy goals. For example, use of the instruments would negatively impact the construction industry and private wealth accumulation. In addition, use of these instruments would also represent a considerable encroachment in legal terms into freedom of contract.
The AFS member institutions were aware of this right from the outset and therefore took precautions to avoid unnecessary hardship by adopting a wide range of exceptions and opening clauses. For example, social housing construction and follow-up financing were exempted from the new rules. In addition, substantial relief is provided for loans that do not exceed certain amounts and exhibit a low probability of default due to a low, conservative mortgaging.
A careful application of the new tools
The new restrictions under section 48u of the KWG do not apply directly, but must be defined by BaFin using a general administrative act. It will only do so if and when the use of the instruments is necessary to counter a threat to financial stability in Germany. A threat to financial stability could arise, for example, if there is a sharp rise in both real estate prices and real estate financing, and the banks start paying less attention to the credit quality and solvency of borrowers.
Together with the Deutsche Bundesbank, BaFin continuously analyses and assesses the extent to which there may be a threat to financial stability. The assessments are documented in financial stability reports and discussed by the Financial Stability Committee. If the Committee reaches the conclusion that there is a real threat to financial stability, it can issue a recommendation to BaFin to deploy the new instruments.
If BaFin believes that it is necessary to restrict mortgage lending, it will prepare a draft general administrative act. In particular, the leading associations of the banking and real estate sectors and several federal ministries must be consulted on this draft, so that legitimate concerns of industry, policymakers and administration can be appropriately reflected when restrictions are ordered. Additionally, BaFin must notify the European Central Bank and various other European institutions in advance if such restrictions are to be ordered.
Depending on the nature of the stability problems to be addressed, both instruments can be deployed individually or in tandem. Their combined use may be appropriate, for example, in the case of situations that involve particularly severe problems. A suitable combination of both instruments can also be used to prevent institutions circumventing supervisory measures.
Assessment and outlook
The legislative project was the subject of long and heated debate in the media, among policymakers and especially among representatives of the banking industry. This is certainly understandable in light of the intensity of any potential intervention and the implied effects on other policy areas.
From a supervisory perspective, the creation of the new instruments was an urgently needed step. The German residential real estate market was relatively stable by international standards in the past, thanks in part to individually more conservative structural elements such as mortgage lending values and long fixed rate periods. However, this does not mean that stability is a law of nature – especially in a phase of prolonged low interest rates. The German supervisory authority must therefore arm itself with the right instruments so that it can intervene at an early stage in urgent cases, safeguarding financial stability and protecting the taxpayer. This new act has therefore closed a significant gap in the supervisory toolbox, as BaFin for the first time now has the ability to intervene powerfully and effectively in the housing market and combat threats to stability directly at their roots.
A further factor is that, in the course of international harmonisation – and especially European integration – there are expectations that a country with a strong economy that plays an important political role will set a good example when it comes to supervisory rules and instruments. In the past, Germany acted very circumspectly in terms of the availability of macro-prudential instruments. This is understandable in light of the relative stability of its residential property market. By contrast, many countries in the European Economic Area (EEA) have not only created these instruments, they are also already using them. The International Monetary Fund (IM) and the European Systemic Risk Board (ESRB) already suggested on several occasions that Germany should also further develop its supervisory intervention options. The first milestone has now been reached.
Figure: European countries that impose caps on mortgages BaFin
Source: BaFin/ESRB
When the German lawmakers approved the new powers for BaFin, their main concern was to enable BaFin to act in a preventive capacity. There is no intention to deploy these instruments immediately, nordoes BaFin see any need for this as things stand today. Although it is somewhat concerned about the rising prices observed on the German housing market, these have not so far been accompanied by excessive lending and any substantial easing in the banks' lending standards.
Authors
Andreas Pfeßdorf
BaFin, Banking Supervision, Organisation of Supervision Division
Michael Vormann
BaFin, Financial Stability – National; Risk Analysis Division
Did you find this article helpful?